Documentary Film, 2015 / 2019
72 min.
Language: English, Arabic & Hebrew
Subtitles: English, Czech, French, Italian, Spanish, German, Bulgarian
Film website: http://koudelka-film.com
Koudelka Shooting Holy Land is a unique and intimate insight into the creative genius of Czech photographer Josef Koudelka. Filmmaker Gilad Baram follows Koudelka on his journey through Israel and Palestine as he searches for the elusive moment in which a photograph emerges.
Josef Koudelka grew up behind the Iron Curtain and always wanted to know "what was on the other side". In 2008, forty years after capturing the iconic images of the Soviet invasion of Prague, the legendary Magnum Photos photographer arrives in Israel and Palestine. On first seeing the nine-meter-high wall built by the State of Israel in the West Bank, Koudelka is deeply shaken and embarks on a four-year project in the region which will confront him once again with the harsh reality of violence and conflict.
Baram, at the time a young photography student, was assigned to Koudelka as an assistant. Soon after they set out on their journey through the Holy Land, Baram begins documenting the master photographer. In each enigmatic and visually spectacular location – soon to become a new "Koudelka photo" – Baram's camera reveals Koudelka's method of working, his perception of the places he is documenting, and the people he encounters.
A fascinating dialogue emerges between Baram's cinematography and Koudelka's still photography, as Baram places the photographer in his own breathtaking compositions. Their austere images of a landscape carved up by concrete walls and barbed wire reveal the tragic absurdity of the infamous conflict.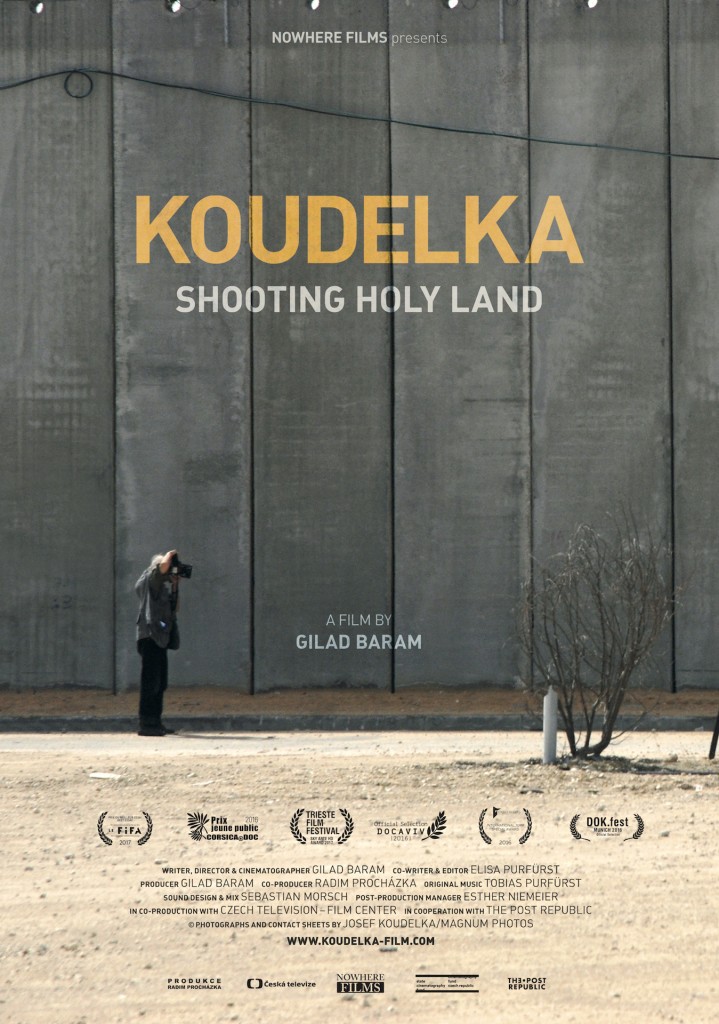 Select Press: The Guardian, El País, Digital Camera Magazine, El Diario, Polka Magazine, Internazionale, IDA Magazine
Select Festivals: Ji.Hlava Int'l Documentary Film Festival, DOKfest München, Docaviv IDFF, Trieste Film Festival, Brussels Art Film Festival, Lo Schermo Dell'Arte, Doku Arts Berlin
Select Awards: Trieste Film Festival – Sky Arte Award, Le FIFA Int'l Film Festival, Montreal – Prix Essai, Finale Plzen – Jury Special Award, Corsica Docs – Young Public Award
Broadcasters: Arte, YLE, SkyArte Italy, SRF-Kultur, Czech Television.
More info: koudelka-film.com / IMDB